Sell My Gold Jewelry for Cash
At, the Jewelers & Loan Co. Quincy, Ma, we are proud to offer Cash for Gold jewelry at our store to a diverse clientele from all over the South Shore area. Gold is notoriously high in value and it holds its value well over time. For this reason, many people seek to buy gold or unload their gold at moments when they need to access additional cash. Blocks of gold are becoming harder and harder to find, so a lot of the world's gold is in personal jewelry. Think about it— how much jewelry do you have sitting in an old drawer or collecting dust in a jewelry box? How much of your jewelry is broken and awaiting repair but you still haven't gotten around to it? With our Cash for Gold services, you can turn your forgotten jewelry into cash for upgraded jewelry or fast cash you can use for anything in a pinch.
We are proud to service customers in all of the following communities and other nearby areas:

Boston
South Shore
Quincy
Dorchester
Milton
Braintree
Hingham
Cohasset
Weymouth
Randolph
Holbrook
Rockland
Abington
Hanover
Marshfield
Pembroke
Hanson
Whitman
Mattapan
Lower Mills
Plymouth County GET CASH NOW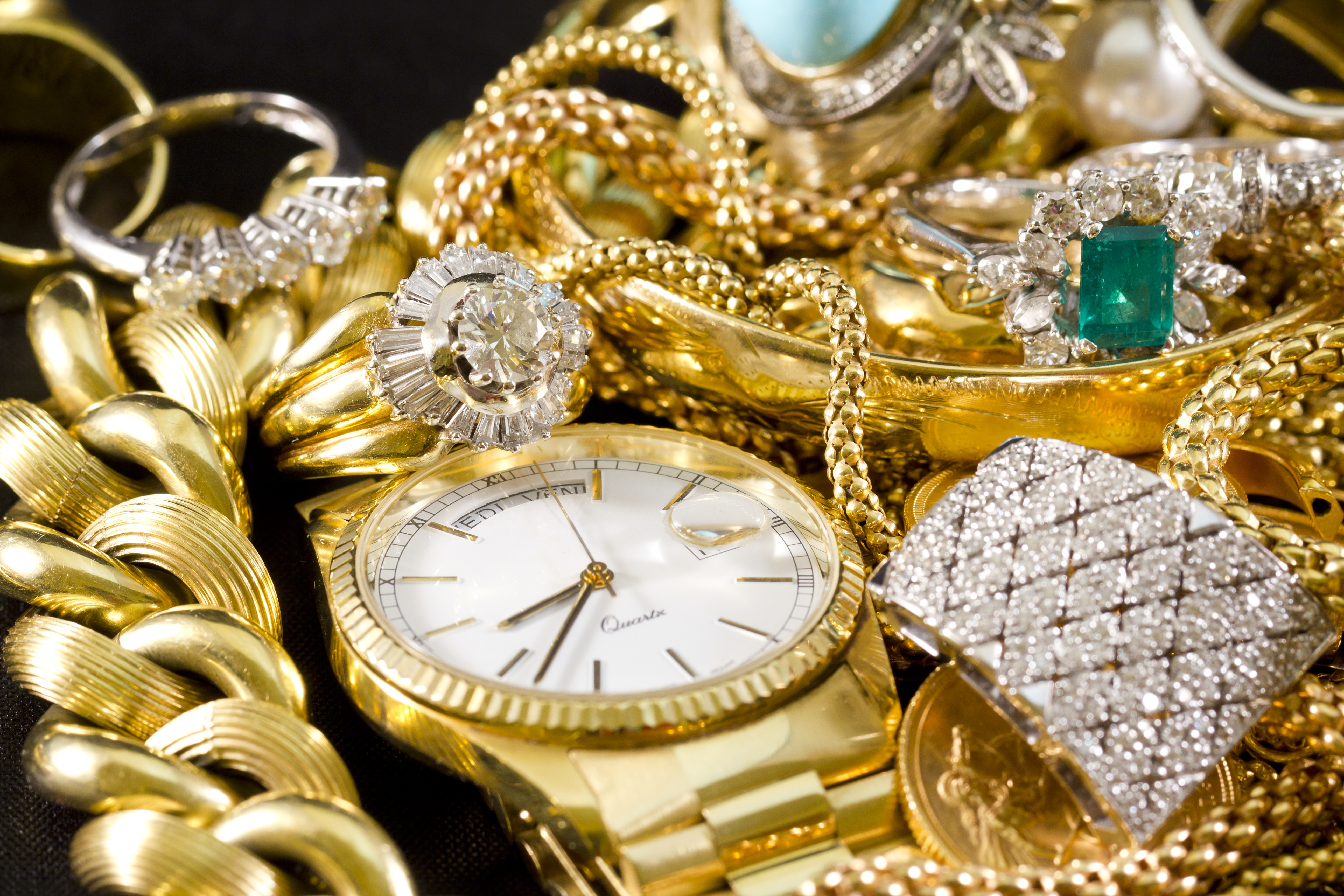 Get Cash for Gold Jewelry
While gold jewelry may be the more common form of gold today, you would be surprised to find that your gold jewelry holds much of the same value as other forms of gold. Even the smallest amount of gold jewelry can be worth hundreds, even thousands of dollars, if it has a high carat purity, weight, and premium brand name. Believe it or not, over 50-percent of the world's gold is found in jewelry, but that doesn't mean you're likely to find it laying on the street. Of the 50-percent of gold that is used to make jewelry, 40-percent of that jewelry has been purchased as an investment. Because of the stock market and the economy's inherent instability, gold has long been considered a stable investment in the future. While gold prices may rise and fall on a day-to-day basis, the relative cost of gold has stayed high for thousands of years. For this reason, it's never a bad time to consider utilizing our Cash for Gold services. GET CASH NOW
History of Gold's Notorious Value
Much like a gold pawn shop, gold's value has its origins in the barter, trade, and loan system. As far back as human history can go, we have seen evidence of lenders acting like modern day bank tellers and loan officers. In these times, the lenders would accept gold coins as collateral and issue credits for people to fund their trades, such as farming and blacksmithing, as well enable aristocrats to access their cash.
At the Jewelers and Loan. Co, Quincy, MA, we are proud to uphold the tradition of helping everyday people get cash for their neglected gold pieces and we have big plans for the future of Cash for Gold and the GoldPawnership vision. In time, we hope that other jewelry stores as well as banks and other financial institutions will see the countless benefits of Cash for Gold services and integrate them into the way they do business.
Unfortunately, a lot of Americans associate pawn shops with the seedy part of town and other negative connotations. At the Jewelers and Loan Co. Quincy, MA, we hope to shift the American understanding of pawn shops and expand their popularity to a wider audience. For generations, Europe has been a leader in pawn loans and other "cash for valuables services" such as pawn silver and pawn diamonds. There is no shame in the practice.
In Europe and India, borrowing against your assets is considered a financially prudent and socially acceptable way to access the cash flow necessary to support your endeavors. Abroad, gold's value is typically understood with its simple cash value, but in America, there can be a bit more nuance to the conversation. In America, gold is mostly discussed on the basis of its karat weight and karat purity. The most common form of gold is 14k (fourteen karats) which is roughly .585% pure gold with other concentrations of copper, zinc, palladium, and silver alloy mixed into the jewelry for durability.
Many of our customers from the South Shore area come to our jewelry pawn shop hoping to sell their gold pieces of jewelry, and even dental gold. We are happy to price and accept gold of any condition, especially if you no longer have a use for it. We aim to make this process as simple and straightforward as possible. Simply, place your gold pieces in a Ziploc bag, jewelry pouch, or box of your choice. We are eager to welcome all gold pieces and jewelry in our Quincy pawn shop.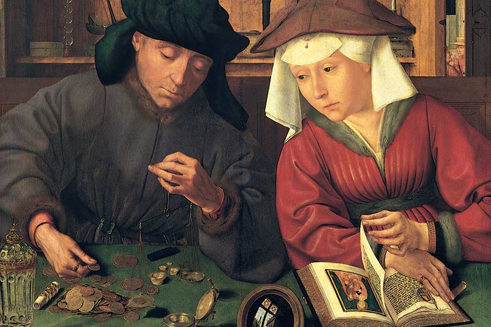 Understanding Karat Purities and Their Effect On Your Cash for Gold Price
Whether you choose to mail in your gold jewelry pieces or you are interested in scheduling a private appointment at our shop, sorting your pieces is a good way to streamline the entire Cash for Gold process. In order to get the fastest and most accurate price for your gold jewelry, it is a good idea to organize each piece based on karat purity and weight and have a baseline calculation of their value based on the current daily spot price for gold.
Once you've done this, you can come into our Quincy pawn shop for a walk-in appointment, Fedex your items to us directly, or schedule a private appointment by calling us at 617-479-GOLD (4653).
In addition to our fast cash for gold services, we also offer short term pawn loans. A pawn loan is a great way to access fast cash without officially unloading your sentimental or precious jewelry items. For more information about What We Buy and What We Pawn, browse our website or give us a call. In simplest terms, we will give you a short-term loan with a minimum value of $100. It's an additional $20 to secure your loan for 4 months with your valuable item as collateral. All of our gold pawn loans are kept secure and confidential with guaranteed safe storage of your valuables for the duration of the loan agreement. Pawn loans do not require a credit check and defaulting on your loan has no bearing on your credit score either. We believe in safe and confidential transactions and always make sure that you receive the most fair-market, second-hand, cash-price for your gold pawn or the many items we pawn and buy.
While pure gold is valuable, it's more rare than you would expect. The daily spot price of gold is based on the value of pure gold and all subsequent cash for gold purchases use the spot price to calculate the daily value of gold at varying purities. As such, not all gold is created equally and each item must be priced accordingly. Most of the gold that goes unused in people's homes is found in the form of high school rings, college rings, masonic rings, or fraternity rings is likely 10k, .417, 417%. For this reason, it's important that you have a solid understanding of your pieces' value before you intend to sell or pawn.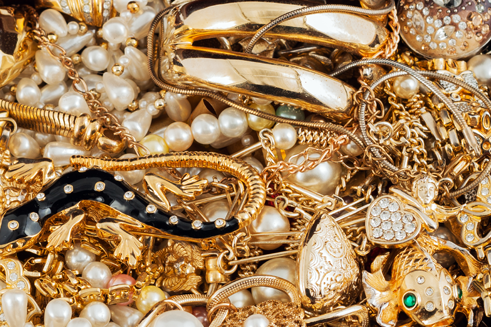 Staying on top of the daily spot gold price
At Jewelers and Loan Co. of Quincy, we mean it when we say we are your one-stop shop for your jewelry and pawn needs. In order to provide our customers with the utmost degree of confidence, we make it easier than ever to check the daily gold spot price on our website.
The gold spot price chart is always live and it's available at the top and to the left of all our website pages. It's also easy to cross check the daily silver spot price, platinum spot price, and palladium spot price if you are interested in any of our Cash for Silver or Cash for Jewelry services.
The combination of our easy-to-read daily spot prices and our jewelers' unique expertise will make your gold sale as straightforward as possible. Whether you choose to sell to us online or with the help of our team in store, you must determine the value of your pieces. Before you sell any of your unwanted pieces, such as an inherited gold bullion, your grandpa's gold wristwatch, gold bracelets, gold chains, gold pendants, and/or broken earrings, it's important that you carefully weigh them and check for stamps denoting their purity.
The daily spot price of gold and other precious metals fluctuates every day during the work week. From Monday to Friday, the trading of gold future contracts and physical gold reserves helps determine the daily price of a troy ounce of gold. The market price sets the tone for all gold sales for that day. Jewelers, pawn shops, pawnbrokers, gold buyers, and gold sellers all benefit from checking the daily spot price and setting their expectations accordingly. GET CASH NOW
Why is it important to check the daily spot gold prices for cashing in my jewelry?
As mentioned above, the best plans to buy and sell gold always include an intimate knowledge of the current daily spot gold prices. The spot gold prices are listed as the current value for pure 24 karat gold, also measured as .9999 troy ounce (ozt). For reference, there are 20 pennyweights in 1 troy ounce which is also equivalent to 31.1 grams. If you know the weight, karat purity, and daily spot price of gold, you are one step away from strategizing the best time to sell your unwanted gold or silver. The daily spot price changes every day from Monday to Friday and the price you get for your pieces can vary as a result. For this reason, we encourage every individual interested in pawning their precious jewelry or securing a pawn loan to keep a pulse on the spot price before making their final decision to sell, pawn, or borrow against their items.
Checking the daily spot prices for gold and silver is an integral part of strategizing the best time and place to sell your unwanted pieces. Historically, the price of gold has dipped as low as $200 per troy ounce in the 1970s and soared as high as $850 in the 1980s. With history in mind, we know that gold is always a good way to get fast cash, but if you can wait, it may benefit your finances to do so.
Thinking about the Appraisal Value of Your Gold
If you have gold jewelry that you are considering selling, it can be challenging to determine the exact value your gold will be appraised for. Don't despair, it is actually a quite simple process. As a general rule, the heavier the gold and higher the karat purity, the more value the jewelry may hold. Higher karat numbers mean a higher percentage of gold that is pure. The most common gold is fourteen karats or 14KT. This simply means the gold is 14 parts pure gold, or 58.5% pure. This percentage is reached by dividing 14 by 24, which is the highest karat level possible in gold. The other ten parts of the total 24k are sometimes composed of copper, zinc, palladium, silver, and nickel.
A piece of jewelry's beauty does not indicate its value. Whether it's gold scrap or gold jewelry, the appearance of the piece is less important than the quality of the gold or the karat purity, the weight in grams, pennyweights, or troy ounces and the current spot gold price of that day. Additionally, if the piece comes from a brand that is considered luxury or high end, or if there are genuine diamonds in the gold jewelry, that can bring additional value.
At the Jewelers & Loan Company, we can provide you with a free, no obligation gold jewelry appraisal that is limited by the amount of jewelry that you have, right here in our Quincy, MA office. While this is typically free, be advised that if you have a large amount of jewelry, a sorting and organizing fee may apply. However, we are happy to provide a price estimate when we can in order to help educate our customers. GET CASH NOW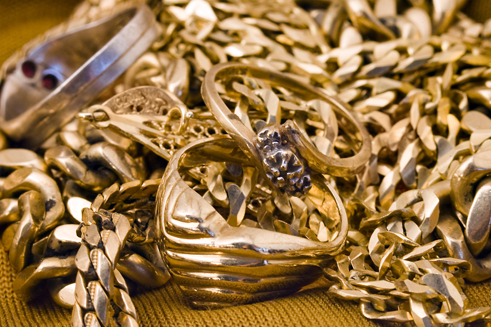 What is the best way to maximize my cash after I complete a jewelry sale?
Selling your jewelry to a pawn shop or jeweler is a quick way to get money for your jewelry, but it's not always the most lucrative. Occasionally, we recommend selling gold jewelry through private retailers or using reputable online platforms to maximize the value of your jewelry. Jewelry with small diamonds is best suited for online sales. The most common jewelry that is best suited to be sold online includes smaller diamonds under a half carat, or finished jewelry with less than a carat total weight of diamonds.
If you are the original owner of your piece, you might remember the attributes that originally attracted you to it. For many customers, it's the aesthetic of the item and the person who gives it to them that creates value for the wearer. Unfortunately, this doesn't always translate to resale value. Think about it, if you bought your jewelry as part of a trend and that level of taste is no longer in style, do you think you would pay that same price for that same piece today?
With this in mind, it's important to make these considerations before you purchase your next jewelry piece. When you are shopping for your next gold piece, consider the purity and the weight. The general rule is, the heavier and more the piece, the more value it will hold. Quality jewelry, value jewelry, or discounted second hand jewelry are all options to a buyer of jewelry or a seller of jewelry. It might cost you more money to purchase a quality piece, but the resale value is higher on percentage terms. Gold plating, or pieces that hold "diamond carat total weight" as described above are generally items to steer clear of, as these do not hold much resale value and are quicker to show signs of age.
Why did my ring cost so much originally and why hasn't it held its value?
When you buy from a big box jewelry store, you are paying for the overhead costs associated with that big business. These costs include but are not limited to payroll for dozens of employees, the high cost of rent to maintain a storefront in a desirable location, marketing, and promotional expenses. When you choose a local jewelry store, you can maintain your confidence that the cost you are paying for your piece is reflected in the eventual resale value of the piece. Independent jewelers are generally able to provide a more honest and authentic experience when compared to big box stores.
The diamond buying experience is personal and the genuine connection you get at a local jewelry store cannot be matched. As mentioned above, it's essential that you consider the weight and karat purity of your desired item before you purchase it, if resale value is something you are concerned about.
How do I know if my jewelry is real gold?
Unfortunately, fake gold and gold-plated jewelry are very common. For this reason, it's important to check for a gold stamp on all your pieces if you are not sure about the authenticity. However, a gold stamp is not the end of the line when determining the authenticity of your gold. Just because there is a stamp, does not mean an item is a genuine gold. There are a lot of types of jewelry that merely appear to be true gold, such as gold-filled jewelry, gold-plated jewelry, gold mixed with copper, gold stamped, and inflated karat genuine gold. Even if a piece of jewelry looks expensive or has a high end designed label attached doesn't mean it's real gold either. While a piece of jewelry may look expensive or high end, it doesn't necessarily mean that it is made of real gold.
The best way to determine the authenticity of a given piece is to look for a small karat mark or a manufacturer's trademark. Each of these stamps can be found on the inside of a clasp, inside of a gold ring, on the end cap of a gold Figaro bracelet, or even a tiny mark on a gold diamond earring post. Common stamps to look out for:
18k
14k
10k
750
417
585
916
999
375
"Gold plum"
It's normal for customers to come in with authentic, stamped gold jewelry, but just as often we see well-meaning folk come in thinking they bought real gold from their friend for a "good deal," only to find out the item wasn't true gold.
Of course, our expert jewelers are happy to confirm the authenticity of all your gold jewelry, coins, and broken gold pieces. You can send us a text message, email a picture, or call and stop by during business hours. A small amount of gold collecting dust in a jewelry box can add up fast! GET CASH NOW
What is the difference between 10k, 14k, 18k and 24k Gold?
Simply put, 10k means that the gold piece is ten-parts pure gold or 41.7% pure. You can arrive at this calculation by dividing the karat weight, in this case 10k, by 24k (the weight of 100% pure gold). Most people will have a general idea of what type of gold they are dealing with when they are considering selling their neglected class rings, corporate gold pin, or the 70's gold rope style chain.
If you have reason to believe that you are holding onto a solid gold, 24k piece, then you are in a great position to sell your piece. Unfortunately 24k gold is rarely used in jewelry because it is too soft for the durability required of jewelry. Solid gold is most common in other areas of the world like India, China, Russia, Europe and South America. In America, 10k, 14k, and 18k gold jewelry is usually 10k, 14k, or 18k yellow or white gold.
18K gold jewelry is especially common in the United States. Just because it isn't pure gold doesn't mean it doesn't have a high value. Though the value of an 18k jewelry piece is sure to be less than a 24k piece, you can still sell your item for a pretty penny. An 18k gold piece made with 75% pure gold and other metals such as copper, zinc, palladium, and a little silver to help strengthen the piece.
As mentioned above, the most commonly neglected jewelry found in people's homes is 10k. 10 karat gold is most common in gold class ring jewelry, gold chains, and gold earrings, and these items tend to be darker in appearance than solid gold jewelry due to the higher concentration of other metals. GET CASH NOW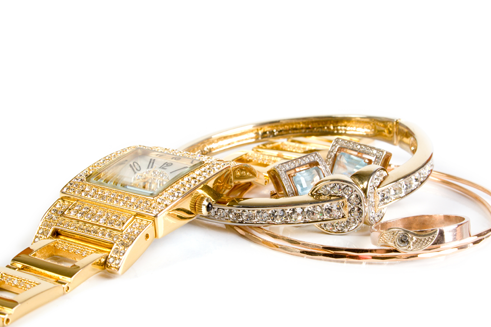 I noticed a 585 stamp on my gold jewelry. What does that mean?
Gold stamped with 585 is 58.5% gold, or 14k gold. If you remember from above, the best way to figure out the percentage of solid gold in your piece is to divide the karat weight, in this case 14k, by 24k.
What does the 417 stamp on my gold jewelry mean?
The stamp on gold jewelry is derived from the percentage of real gold in a given piece. In the case of a 417 stamp, this means that your piece is 41.7% gold, or 10k.
What does the 750 stamp on my gold jewelry mean?
Gold jewelry stamped with 750 is 75% real gold, also known as 18 karat gold. 18k gold jewelry is often more yellow and brighter than pieces with less solid gold in them.
What does the 375 stamp on my gold jewelry mean?
This stamp is especially uncommon, but it's typically found on European jewelry items such as Claddagh rings, Celtic Crosses, and even old pocket watches. Gold jewelry with a 375 stamp is roughly 37.5% solid gold and is considered 9k gold. Nine karat gold tends to be very dark in color when compared to solid gold pieces.
What is gold plated jewelry and why doesn't it hold the same value as regular gold?
Many customers come to us looking to sell gold jewelry pieces that are "gold filled." This is a very common way to make jewelry today and while it gives off the appearance of solid gold jewelry, it isn't the same.
Gold-filled jewelry, also known as a gold overlay, is made by using heat and pressure to apply a layer of karat gold to a base metal. This creates an "overlay" of gold on top of the metal.
In order to qualify as a gold-filled piece, the karat of gold in each item must equal at least 1/20 of the total weight of that item. Gold filled pieces can also be 2/20 or 5/10. Gold filled items typically do have a cash value since a certain amount of gold needs to be used to create these pieces.
Sell Gold in Our Pawn Shop in Quincy
If you'd like to sell gold jewelry and get cash for your pieces, then stop by our Pawn shop located in Quincy, MA to get a gold jewelry appraisal for free on your pieces.
The process works like this:
Step 1: Gather Your Gold Jewelry for Sale
Get together whatever gold jewelry that you believe may have value. We can give you cash for gold on many pieces. Just bring it in! You can also send us a picture or request a FedEx Label.
Step 2: Evaluate and Separate Your Gold jewelry
Next we'll go through and evaluate, appraise, and separate your gold jewelry by karat. We will determine whether you have a 10k, 14k or 18k gold item to sell, pawn, or borrow.
Step 3: Determine the Value of Your Gold
After we evaluate your gold, we'll look at the craftsmanship and brand of your pieces. Besides the precious metal value, we will look to see if your pieces are from luxury designers like Rolex or David Yurman which may increase the value of your items—so you can get the max cash for your gold jewelry.
Step 4: Weigh Your Gold
We use a certified sealed scale to weigh each karat of gold separately for the utmost accuracy—so you know just how much gold you are selling, which is measured in pennyweights. After that, we'll check the current spot price of gold for the most updated price of gold.
Step 5: Get a Cash Offer for Your Gold Jewelry
After multiplying the weight of your gold by the current market value, we'll provide you with an instant, no obligation offer for your gold. We will never pressure our customers to accept an offer! We give high payouts to our customers for both pawn loans and cash sales.
We Buy Gold of All Karat Purities
Our store in Quincy is set apart from the rest because we are happy to accept all karat purities when we buy gold from our customers. Once you come into our store, one of our gold brokers will walk you through our gold buying process and help you determine what type of karat purity your pieces are. We will even purchase less desirable 10k and sterling silver.
What Gold Jewelry Do We Accept for Cash?
We buy gold from customers of just about any type in our Quincy, MA store.
Not sure where you should sell your gold? Looking for an option to borrow cash for a short term (4-month borrow term*)? We are here to help. We proudly offer free, no obligation gold jewelry appraisals for all of your gold pieces here at The Jewelers and Loan Co. of Quincy, MA.
We are licensed and have many years of experience buying gold. Our gold brokers and gold buyers will always be here to assist you and answer any questions that you may have about the value of your items and our process.
Selling Your Designer Gold Jewelry for Cash
Do you have designer gold jewelry to sell? It is a very unique process and it can help you earn even more cash for the gold that you have. When you bring in a name brand piece, such as Tiffany, Rolex or David Yurman, we will not only look at the quality and weight of the gold, but we will take other factors into account as well.
We resell many designer pieces from reputable designers right here in our Quincy, MA showroom. We also know that sometimes these designer pieces are worth much more than their weight in gold. We will consider the designer, condition of your piece, and the style of your item so you can get even more cash for gold right away.
How to Sell Your Gold Bracelets
Do you have old gold bracelets floating around the bottom of your jewelry drawer? If you do, one of our gold buyers can offer you a free estimate right on the spot. With gold bracelets, we always start by looking at the karat purity and then weigh the piece to see how much gold there is. Then, of course, we multiply that by the current gold rate in the market.
The great thing about bracelets is depending on the style and thickness of the piece, your gold bracelets may actually weigh more than you think—meaning more cash in your hand. A general rule, the heavier the gold the more cash you receive.
We Buy Gold Chains and Necklaces
Gold chains and gold necklaces are some of the most common pieces we see in our pawn shop. When our gold buyers look at gold chains and necklaces they are of course looking first at the overall karat purity of the piece, to determine how much real gold is actually in that item.
The chain and the pendant on the necklace may actually differ when it comes to karat purity, so our expert gold brokers will examine both items and then weigh them to determine the final amount of gold in the piece.
After we check the daily spot gold rate, we will provide you with a cash offer right on the spot for your pieces.
Sell Your Gold Rings for Cash
Gold rings may be some of the smallest pieces that customers want to trade in for cash, but they are also sometimes the heaviest as well. There can be a lot of gold content in rings, which is why they are such a popular item to both sell and pawn-loan.
With gold rings or any piece of gold jewelry you are looking to sell, we will look at the karat purity, weight of the piece and the current value of gold in the market, before we make you a cash offer.
Does your gold ring have diamonds in it too?
This can completely change your offer as we can present you with an appraisal that includes the diamond, or one that only accounts for the gold.
Get Cash for Your Gold Pendants
Loose gold pendants sitting around your home? Gold heart pendants, gold circle diamond pendants can add up cash in your pocket. You can actually turn them into cash, even if they are missing their chain or pin. We will take a look at your gold pendants to determine their karat quality and the piece's weight. From there, we will use up-to-date market prices to make you a competitive cash offer right on the spot.
Here at The Jewelers and Loan Co. of Quincy, we make the process as easy as possible, so you can get in, get out and get your cash quickly as possible in under a few minutes. We understand people have to work, sit in traffic, pick the kids up from school and live the daily life of living! We do it too!
Selling Your Gold Earrings
Gold earrings are often a great way to earn some extra cash for gold that you aren't even using. Many of our customers are surprised to find how much gold weight there is, even in seemingly smaller earrings. Gold hoop earrings, gold stud earring, gold, and diamond earrings, if it's gold and it's in an earring it has a cash value. From an old boyfriend, ex-husband, upgrading to a new style, or just sick of looking at it.
Once we weigh the item and determine whether you have a 10k, 14k or 18k gold earring, we will make you a cash offer. You don't even need the matching pair—meaning you can make cash off that one mismatched gold earring you are still hanging on to. GET CASH NOW
Learn How to Sell Gold Coins for Cash to the Nearest Pawn Shop
Besides jewelry, many people also have gold coins they have been sitting in the safety deposit box for a long time and have no clue what to do with them. Sometimes these coins are inherited and sadly used to pay for living expenses. If you want to sell gold coins for cash—then you have come to the right place. We purchase coins from the following countries: Russian Gold Coins, Indian Gold Coins, United States gold coins, Canadian Gold Coins,African Gold Coins, South American Gold Coins,Chinese Gold Coins, Mexican Gold Coins, and more!
There are so many rare, unique and valuable gold coins out there right now, ranging from American Buffalo Coins and PCGC, NGS, Graded Investment Grade Coins to $20 Liberty Gold Coins and even "Double Eagles." We have an extensive, up-to-date list on what all of these coins, including the rarest gold coins in the market are currently valued at by using the daily price sheet for coins.
We can make you a cash offer on your gold coins so you can walk away with real currency in your pocket.
We Buy Gold Charms and Charm Bracelets
Gold charm bracelets can be great pieces to sell when you want cash for gold or even a short-term loan for your gold products. When you have gold charms and charm bracelets to sell, we will start by separating your bracelet from the charms. Many times, your gold bracelet may be even higher quality than the charms you collect—meaning more money for your gold.
After weighing your gold charm bracelet and all of your coordinating charms, and comparing them to the current value of gold, we will make you an instant, no-obligation offer for your piece so you can see just how much cash you can get for the gold that you have.
Cash for Men's Gold Jewelry
As a jewelry pawn shop located in beautiful Quincy, MA, we see a lot of men's gold jewelry. This includes gold rope chains, Cuban link bracelets, Figaro chains, and other gold bracelets. From pocket watches and rings to tie bars and cuff links—men's jewelry can be a great way to earn cash for the gold that you have.
An advantage to men's jewelry is that many times, it is made to be bigger, heavier and stronger than other pieces. This means you often have a much heavier piece of jewelry on your hands, and more gold to sell!
Bring in your men's gold jewelry and we will determine its karat purity, weigh it and use today's gold prices to make you a cash offer on the spot. It is really that easy to earn cash for the men's gold jewelry you have.
We Buy Gold Omega Jewelry
Gold omega jewelry pieces are an excellent choice if you are looking to sell gold items.They tend to be thicker, heavier and have gold all the way around the piece. If you have one of these gold items in your jewelry box, bring it in and let us offer you a free assessment.
We'll weigh your omega gold necklace or omega bracelet and determine how much gold you have and what purity it is. Then, using up-to-date information on gold prices we will make you a cash offer for your gold right on the spot. There is no obligation or pressure, simply a cash offer you can take or leave at your convenience.
How to Sell Scrap Gold Jewelry for Cash in a Store
Here at The Jewelers and Loan Company Quincy, our pawn shop is always happy to take gold jewelry in any condition for cash on the spot. We offer high cash payouts for your old, broken, or unwanted gold jewelry. However, we don't just deal in gold jewelry. If you have scrap gold sitting around that is broken or that you think is unusable, we may be able to make you a cash offer for your scrap gold. It is a great way to turn something you weren't using at all into cold, hard cash. We focus on custom jewelry design, buying, loaning, pawning on gold jewelry, diamond engagement rings, loose or broken diamonds, sterling silver flatware, sterling silver jewelry, silver and gold coins, luxury Rolex watches, old antique currency, paper currency, and even old-tired houses we can purchase!
We'll evaluate your scrap gold and determine the percentage of pure gold is in the items. We also look at the weight of your gold and current market prices to give you an instant, no-obligation cash offer.
We Buy Foreign Gold Jewelry
If you have international or foreign gold, in the form of jewelry or gold coins from different countries, we can make you a cash offer today.
Different countries actually have different standards on their gold karat purity levels. For example, in Europe, a piece of jewelry can be 9K (.375 stamp), wherein the United States the minimum is 10K. Here at our Quincy pawn shop, we are happy to make you an offer on your gold and gold jewelry, no matter what country it was made in.
This includes:
French
India Gold
Russian Gold
Chinese Gold
Saudi Arabia Gold
Mexican Gold
European Gold
Italian Gold
Portuguese Gold or Brazilian Gold
Malaysian Gold
Vietnamese Gold
Our gold buyers have a great deal of experience in foreign gold and can weigh your items, consult market rates, and help you get the best cash offer for your gold, no matter where the items came from.
What is a Troy Ounce Compared to a Measurement on an Avoirdupois Scale?
This sounds confusing, but it's not! Standard measurements in our world today use an Avoirdupois scale. Using this system, there are 16 ounces in a pound. It is the scale most people use when they weigh themselves.
A Troy Ounce, on the other hand, is completely different. The Troy System is used to measure gold, silver, platinum, and other precious metals.
A Troy Ounce is heavier than an avoirdupois ounce.
The Troy Ounce used to measure gold, silver and platinum are around 10% heavier than your standard ounce. So, if you have 10 ounces of gold, it would weigh more than 10 ounces of chicken.
However, a Troy pound actually weighs less than an Avoirdupois or standard pound. This is because a Troy Pound has a completely different definition altogether. This type of pound only has 12 ounces in it, instead of 16. In other words, if you have 12 ounces of gold, you have a pound of gold.
How Many Grams are in a Regular Ounce vs a Troy Ounce?
Food is different than metal when it comes to weights. A Troy Ounce, which is used to measure gold, has approximately 31.1 grams in each ounce. A standard ounce or Avoirdupois Ounce is made up of 28.35 grams.
Trusted Gold Jewelry Buyers Near Boston
If you're near Boston, South Shore, Quincy, Dorchester, Milton, Braintree, Hingham, Cohasset, Weymouth, Randolph, Holbrook, Rockland, Abington, Hanover, Norwell, Marshfield, Pembroke, Hanson, Whitman, Mattapan, Lower Mills, or elsewhere in Plymouth County, stop by our store to sell your gold jewelry for cash! Our respected gold jewelry buyers are ready to assist you with buying or pawning gold. Contact us today to learn more! GET CASH NOW